This is my attempt at crafting my own Grey Seer, a Skaven caster that traditionally has hornage. In retrospect, I could have not used the Plague Monk head and it might have looked a lot better. Not super happy with the sword arm (cause I'm picky) either.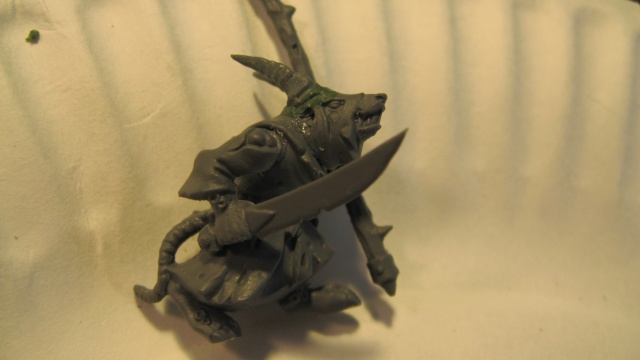 Also now that I think about it I could probably cover up a lot of the boils (more of a plague monk thing that a grey seer thing) with some sanding and green stuff. But the pouch came out really well!
I have enough pieces to try again with a slightly different pose (cooler arm) and a normal (screaming!) Skaven head. I'll try to sand down the head and horns more before attaching them, and use green stuff to cover the difference. Below is my first attempt at a fancy base; It's a stone floor/road/fallen wall! But it's kinda fat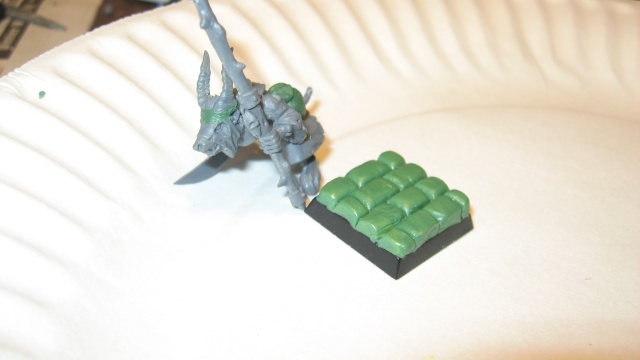 Green Stuff works so far. I decapitated my dire wolves because I had a change of heart about how awesome the metal heads are (they're awesome!). The heads didn't come off super clean (on one wolf I tore a chunk out of the shoulder) so I used green stuff to join the metal heads to the plastic bodies and stuck it with my knife until it kind of looks like fur.
I made two more stone bases and I think they look a lot better. I used half as much Green Stuff as on the tall one and made the stones wider. That basically makes the difference in keeping them from rounding too much and looking funny.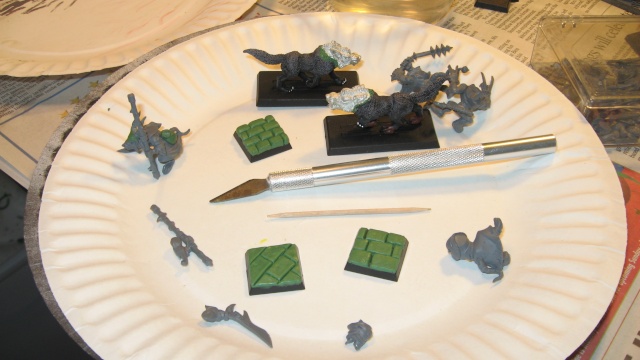 My tools thus far are pretty brutal. Grimy exacto knife and a wet toothpick. Actually the knife is wet, too, and so is the sheet of glass I'm working on because otherwise the green stuff will stick to it like crazy. Do most of the cutting and shaping with the knife, and I roll the toothpick to flatten and smooth the green stuff (the stones are intentionally scuffed up a bit to make them look worn; the toothpick rolling actually works pretty well).